2011 Backspace Writers Conference Wrap-Up
It's impossible to condense three days of panel discussions, small-group workshops, networking, and instruction with 22 literary agents, 4 editors,12 authors, and 1 social networking guru into a short summary. What to highlight? The literary fiction panel with author Susan Henderson, her agent Dan Conaway of Writers House, and her Harper Collins editor, Brittany Hamblin, in which Sue confessed how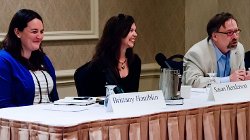 she met her future agent at a party after avoiding him for several hours because she didn't think they'd click?  Or how about when Dan related that after working with Sue on the manuscript for two years, and thinking it couldn't possibly be improved, "this upstart editor" suggested a change that neither he nor Sue had seen that was truly inspired?
Or how about the panel with Scott Hoffman of Folio Literary Magement and Rachel Griffiths of Scholastic Press that lifted the curtain on what happens when an agent sends a manuscript on submission in which Rachel gave attendees the inside scoop on why editors hate auctions (surprisingly, it's not about the money)? Or the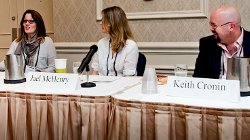 packed-out women's fiction panel with Kelly Simmons and Jael McHenry, moderated by bald and burly women's fiction author Keith Cronin?
Or the inspiring keynote address from New York Times bestselling author Jonathan Maberry on "The Power of Positive Writing?" Or the fact that one talented author has already signed with an agent they met at the Backspace conference?
Instead, we'll let conference-goers tell you about their Backspace experience in their own words:
"I'm so glad I chose Backspace out of all the conferences out there. I don't think any others could have compared to this experience. I've gotten several requests from agents, made friends with other writers, got so many new ideas from the Donald Mass seminar and had a great time in New York."
"A great thing was that there wasn't this huge gap between the unpublished and published authors. Everyone was very accessible and generous."
"Meeting the writers was as important as the workshops. Making connections with people who share your dream is vital to moving forward in your own. I did learn as much, if not more, from all of my new Backspace friends as I did in the conference sessions."
"I came away encouraged and energized. Not all writing conferences are like this and I'm really glad I could be a part of it."
"What impressed me most was how generous Backspacers were with their time and support. It's unusual to see so many successful authors agents and other professionals interact in a spirit of service to each other. I came away from the conference much better prepared to face the road to publication."
Then there was Donald Maass' day-long "Writing the Breakout Novel" workshop on Saturday. Maass is an extraordinarily gifted teacher who truly cares about his students. Again, from attendees:
"Clearly, if you've never attended a writers' workshop in your life — you truly need to attend this one. For me, this man is THE yoga instructor for writers. Since we started this morning, I've actually felt writing muscles stretch — that I didn't even know I had. As a lecturer and and all-round writing coach, Maass is nothing short of phenomenal."
"The workshop was amazing. Everyone came away buzzing with concrete ways they could improve their stories. I really enjoyed the whole Backspace conference – but this was definitely the highlight. If you ever have a chance to go to a Donald Maass workshop, DO IT!"
"Have to agree on the Donald Maass workshop. I am still trying to catch my breath."
"Hearing Donald Maass was the single best workshop I have ever attended in 25 years of writing. I'd heard of him–but always thought I knew what I was doing and I didn't need to bother with a "how to" workshop. WRONG. Thank you, Backspace, for having Donald come to the conference!"
Attendees aren't the only ones who enjoyed the conference. From agents:
"I had a wonderful time. Everyone involved was great and I look forward to the next one!"
"Thank you so much for hosting such a wonderful conference. The authors were professional, the hotel was fabulous and the food delicious. I would love to be included in any future even you host. Thank you so much for all you are doing to help this wonderful industry!"
"Thank you so much for having me! It was great fun! I will definitely support any future Backspace ventures without question! "
"So glad I could be a part of such a lovely conference."
"Please do let me know about your next event. I would love to participate in anything sponsored by Backspace."
"Thanks so much for including me once again in your wonderful conference.  I look forward to the next one!"
Chris and Karen would like to thank EVERYONE – our generous faculty members, our conference sponsors, as well as all of our talented conference attendees for making the 2011 Backspace Writers Conference such a huge success. We couldn't have done it without you!
NEXT UP: 2011 Backspace Agent-Author Seminar - November 3 & 4, New York City
Two days of panels and small-group workshops with ONLY literary agents on the program. Attendance limited to 100 authors. Register now!
Photos by Luna Jade