MJ Rose (2008) – text of Jessica Keener's remarks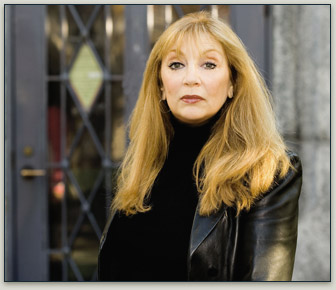 Back in the mid-1990s, when the internet was dominated by listserv groups, a struggling novelist and former Manhattan marketing director named MJ Rose made news when she self-published her debut novel, Lip Service, as an e-book, selling more than 2000 copies online.
Nobody had done this before.
Like many of us in the room today, she'd spent years trying to break through into print. Publishers found her novels too risqué, too uncategorizable. Frustrated and fed up, but damned if she was going to give up, she took control and found a radical way to reach readers—the internet. Her bold move caught the eye of a publisher who subsequently bought her novel.
Lip Service became a Doubleday Book Club selection.
Nine novels and ten years later, MJ Rose has achieved international, bestselling status with her most recent novel, The Reincarnationist, going out as Mira's lead title in 2007. Throughout, she has never forgotten the struggle—her battles with despair and loneliness—and because of this, she wants to help other writers break out and succeed, too.
"The mandate that mattered most to me personally," she wrote two years ago on Killer Year's blog, a website for debut thriller writers [is] "the goal of creating creative marketing opportunities…to band together and help each other rather than view each other as competition. To do something different. And to do it right."
Go to MJ's blog: Buzz, Balls & Hype and you'll get a daily read on what's new, what's working, what isn't working, and what should be working in publishing.
"MJ Rose changed my life," says Backspacer novelist Caroline Leavitt, author of Girls in Trouble, and the upcoming, Breathe. "My publicist at the time wasn't doing very much for my novel and I was terrified my novel would die. Warmly and with great compassion, MJ helped me see just how much opportunity was out there and how to grab hold of it. I've never met anyone smarter or more creative about book publishing or more generous—plus she's a wonderful author herself. What can I say, she's aces and diamonds."
Whether she's contributing posts to Backspace, Killer Year, serving as a founding member and volunteer director for the highly successful International Thriller Writers website, or running Author Buzz, her book marketing brainchild, MJ Rose's name has become synonymous with harvesting new ways to help writers sell their books.
"MJ has been a close and valued friend for years," says Roger Cooper, Vice-President and Publisher of Vanguard Press, "and as we've worked together, I have continually been astonished (but no longer surprised) by her total and consummate energy, creativity, and professionalism in every aspect of her work and writing life.  She has been integral to the continued and growing success of Vanguard Press, and our (sometimes endless) discussions about all aspects of internet marketing have been incredibly  stimulating, educational and provocative – and even when we disagree, wonderful fun.
Beyond all this, I come to my first comment – close and valued friend. She has that rare combination – I call it smart with heart – that makes me feel lucky every time we talk on the phone, have a drink or a bite. I know of no one who deserves this important award more than MJ."
Dan Conaway, who once blogged as Mad Max Perkins, and who recently became MJ's literary agent at Writers House, says: "There are so many things one can say in celebration of MJ Rose that the exercise risks becoming a study in meaningless hyperbole–so while it is true that, in every sphere she inhabits, MJ is brilliant, brave, and big-hearted, almost to a fault, perhaps it's more useful to consider where we would be without her. 
What would we know about our business, without MJ Rose having explained it to us?  What writer, fresh-faced or battle-scarred, up-and-coming or down-and-out, desperate for guidance, data, and direction in the bewildering forest of publishing, has not gratefully stumbled across the lantern MJ has kept lit for authors for as long as any of us can remember?  Is there another writer in the literary blogosphere who has fought the good fight as ferociously as MJ has, for as long as she has?  Who has shared of her expertise so generously, done as much to empower individual authors, one by one by one, through the example of her own hard-earned experience?  MJ Rose is the personification of what we mean, idealistically, about "a writing community," and I'm truly thrilled that she is being recognized here tonight.

It's in this spirit of helping others, of seeing the writing community as one—of giving so much of her time on the internet to advance our common cause—that Backspace has chosen MJ Rose as this year's recipient of The Bob Kellogg Good Citizen Award for Outstanding Contribution to the Internet Writing Community.